Collaboration can make the Ghana Science & Tech Explorer Prize a reality
10 Mar 2020
As I embarked on this idea of translating the Longitude Explorer Prize into the Ghana Science and Tech Explorer Prize last year (2019), I was struck by how much more significant the already impactful programme in the UK, focused on developing STEM and Enterprise skills among 11-16 year old's in secondary schools, could become if utilized effectively within emerging economies. The need is real and the possibilities limitless. 
To help turn this passion into a reality I sought out partners that could help co-design a more contextually appropriate version of the programme and build on the aspiration to impact the lives of thousands of young people in Ghana, and more broadly and long term, the Ghanaian STEM and enterprise education landscape. 
I have found great partners in Dream Oval Foundation, Dext Technology, Mest and Foundervine whose knowledge of Ghana and range of experience with young people, teachers and enterprise compliment Nesta Challenges perspective on innovation. These partnerships excite and give me confidence about what we can achieve together. They speak to the necessity to draw on collaborative strengths to achieve lasting change.
The power of these partnerships was demonstrated when we co-hosted the Ghana Science and Tech Explorer Prize Roundtable in Accra on 27th February 2020. Collectively, we understand the importance of effective collaboration at all levels of the value chain to facilitate systemic change and wanted to ensure that the conversation was extended to a range of other stakeholders with a co-design principle in mind.
The roundtable attendees included ministries, academics, industry, enterprise networks, and NGOS that demonstrated their enthusiasm for the potential of a challenge prize, like Ghana Science and Tech Explorer, to be a catalytic driver for systemic change in education and a framework for preparing young people in Ghana better for the future economic landscape of opportunity. 
We were honored to have the Director of Pre-Tertiary Education from the Ministry of Education, Mrs Catherine Appiah-Pinkrah, open proceedings with a committed address about the importance of STEM in the refinement of Ghana's new curriculum. The Ministry is definitely open to innovation and are striving for ways to enhance the education system through innovation. They have made a great deal of progress already, but understand that there is still a lot that can be done. What's important to them is lasting change and sustainability.
We also heard from key industry partner, Andy Mensah from IBM, about the importance of developing critical thinking and entrepreneurial skills among the young so that there is a workforce able to effectively lead new industry requirements in the future. 
From Joy FM's Nhyira Addo we heard about how communications plays a pivotal role in galvanising communities to get behind initiatives like this and encourage young people to take part for the benefit of the whole community.
Participants took part in a range of exercises focused on 3 key questions?
What are the barriers, opportunities and priorities related to STEM and enterprise education for young people in Ghana?

How can Ghana Science and Tech Explorer Prize effectively address the needs of young people and the future of industry in Ghana?

What does success look like?
What we decided that day
The overriding response at the roundtable was extremely positive. The participants were keen to underline the challenges, such as buy-in from schools, capacity of teachers to engage and the level of resource that will be made available to participants; as well as the opportunities for Ghana Science and Tech Explorer to engage and excite Junior High School children about the possibilities of STEM and enterprise for a brighter future. They also acknowledged that the programme is aligned with their own aspirations in this area.
Success factors range from the number of young people, teachers and schools that can be meaningfully engaged, to the quality of the experience and long-term opportunities to see positive impact generated through the prize.
Each participant also made a commitment to get involved in the Prize based on their own expertise and priorities, such as supporting  youth engagement events, teacher training, mentoring, meeting and communications, contributing to transport and accommodation costs for schools to participate and materials and resources for students and teachers. We are extremely grateful for the expressions of interest in these areas and more.
For programmes such as Ghana Science and Tech Explorer Prize that have the aspiration of being a catalyst for broader systemic change, collaboration is essential. It is important that silos are broken down and as many relevant actors from the education, enterprise and industrial value chain are brought together to utilize their experience and perspectives to connect the dots across the system.
How to get involved
This is hopefully the first of many engagements with a broad range of stakeholders, including teachers, young people and donors, during the active research and design process.
It really does matter who is invited to the table and how they are meaningfully engaged. Ghana Science and Tech Explorer Prize can only be better for it and serve its community more effectively.
We have not yet secured the funding required to implement the programme over the initial 3 year period, which will encompass:
We are seeking donors who want to catalyse systems change for young people across Africa and all the long term benefits that it enables. Help us realise the full potential of what Ghana Science and Tech Explorer has to offer.
Ideas or comments? Contact me at constance.agyeman@nesta.org.uk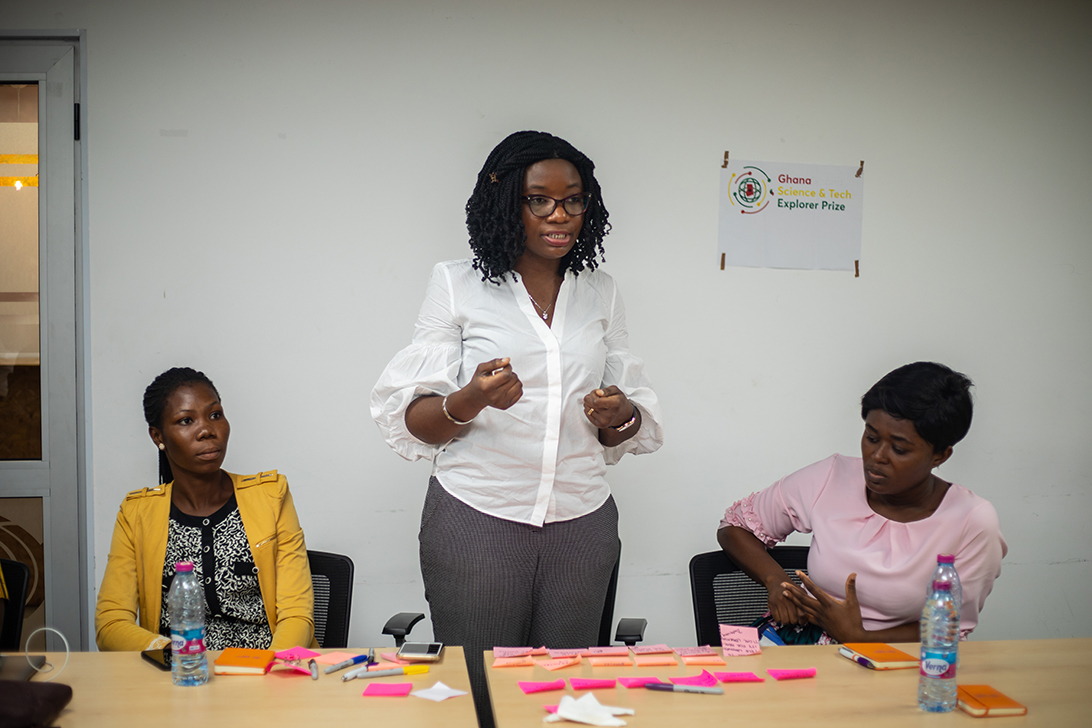 Thank you to those involved and who continue to support this initiative: 
Ministry of Education

University of Ghana

Ministry of Business Development

Ghana Robotics Academy Foundation

Council of Technical & Vocational Education and Training

IBM

Graphic Communications

Joy FM

3M

Impact Tactics / Information Technology Senior Management Forum (ITSMF)

NORSAAC

YES Ghana

Results for Development

DreamOval

Foundervine

DEXT Technology

MEST AFRICA

Youth Empowerment Synergy (YES) Ghana

Ghana National Association of Private Schools

Ghana National Council of Private Schools (GNACOPS)

Water and Sanitation for Urban Poor

Impact Tactics

Dataware